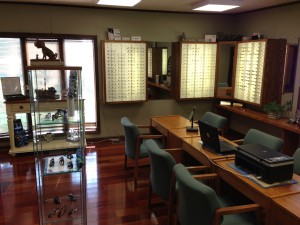 Glasses: You can browse a large variety of frames and sunglasses in our display room. Our
knowledgeable staff can offer several options when ordering your glasses such as lined bifocals, no-lined progressive bifocals, anti-glare coating, scratch-resistant coating, safety lenses, tinted prescription lenses, and Transitions® lenses.
Contact Lenses: We offer the fitting of soft, gas permeable, and multifocal contact lenses to fit your visual demands.
Comprehensive Eye Examinations:  For patients of any age, we do a thorough examination of your eye and visual system health.
Pediatric Eye Exams:  No one cares more about your child's eyes than you do, but we like to think that we're a close second.  We do an in-depth exam that tests a variety of elements that impact your child's ability to succeed in life.  We test their need for glasses, depth perception, color vision, muscle movements, focusing ability, eye alignment, and general health…just to name a few. 
Post Operative Care:  We co-manage many ocular procedures with surrounding centers.  This includes LASIK, PRK, and cataract surgery.
Diabetic Eye Examinations: For diabetic patients, we look for changes in your eye cause by diabetes. These changes, known as "diabetic retinopathy", may develop even before you notice changes in your vision. The National Institute of Health, American Diabetes Association, Center for Disease Control, and several other organizations all recommend dilated eye exams every year for patients with diabetes.
Disease Management: Our office has invested in the newest technologies to help diagnose and manage diseases such as diabetic retinopathy, glaucoma, and macular degeneration. We also work closely with specialists in the surrounding areas to make sure you get the best eye care possible. 
Emergency Eye Care:  Our doctors are available to provide emergency eye care 24 hours a day.  If you required assistance, please call our office.  If it is after regular business hours, our voicemail system will instruct you on how to reach a doctor.  If you believe it is a life threatening emergency, immediately go to the emergency department of the closet hospital.
Have questions about our products or services? Just call and ask!